We reached escape velocity and left the Greyton bubble; breached the Overberg outer limits and eventually the Western Cape comfort zone and drove the 3,500km sling shot of planet Lesotho. Greyton gravity kicked in again at Worcester with the re-entry parachute deployed at Villiersdorp.
The N1 beyond PE is being improved. Curiously – apart from the flag wavers and stop-go lollipop operators there was nobody working. The completed sections were showing signs of garden route (pun) regrowth. Traffic management protocol added 3 hours to our daily travel times. Instead of inconveniencing, a small number of vehicles for a short period of time, the Transkei way is to inconvenience a whole pile of traffic for at least 30 minutes. The road-work's stops have been established so long that the chap in charge of the lollipop has moved his extended family into the shelter and his brother is selling Lays (chips that is.. not…!!) and cool(ish) drinks to the people using the toilet (yellow line passing?). Now wash your hands?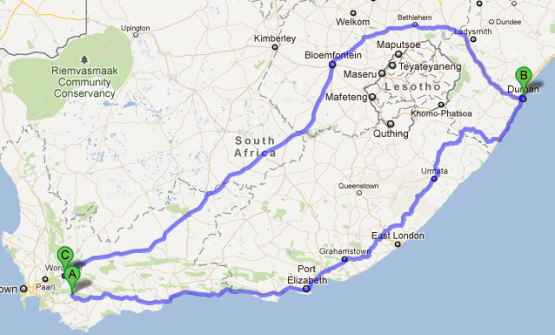 Grahamstown was interesting – the KFC was the only place to eat – as Nandos had closed for Easter
The next leg, Grahamstown to (Amamzim)'toti, was not only road-works (an oxymoron) but hundreds of pedestrians with cases, bags and goats resignedly walking and hitchhiking. The SAP were randomly road blocking for illegal taxis and drivers, who either ran away and abandoned their vehicles (and their passengers) or were cable-tied and kicked onto the SAP bakkie.
There is very little in the Transkei to attract the tourist. We did see a sign to yet another Nelson Mandela Museum at Mthata but it was closed – due to Easter.
The Art/ Craft/ Artisan/ Hobbyist/ Restaurant/ Guesthouse offerings were not all that obvious and downtown(s) Butterworth and Kokstad (named after Adam Kok III (king of the Griguas – by the way and not after a celebrity chef)) make Caledon look..err… a lot better than Caledon. We found a local branch of Steers in Mthata otherwise we might have starved – their crispy chips are the best.
At the Butterworth roadblock Constable Sisulu asked how much I wanted for our old orange Merc- whilst cleaning his ears with his cable-ties. He waved us through into the path of a fleeing taxi driver
Luckily there were no rooms at the M&J Fisheries Boarding House and Restaurant. The Exotic Dress Shop – Photo Coping and Faxying Service next door would have been useful as my driving supervisor often has dress coping issues.
We pressed on to KwaZulu- Natal – Home of the Bunny Chow.
Durban: the water is warm; the climate is fabulous (at this time of year!); they have done a great job of the esplanade; the football stadium is world-class and the Bunny Chow is an acid-reflux guaranteed experience. I was intending to include a photo' of the Bunny Chow but just looking at it would cause an acid reflux moment.
Thursday night was Craft Market, Live Music and Bouncy Castle at 'toti Sports Club. The no-smoking signs didn't deter the smokers. The weekly craft market had promise, owing to the size of the marquee. The actuality did not meet the reality.  Greyton – we have nothing to fear. The stalls were personed by sad faced ageing hippies (yes I know I should look in a mirror). More grey pony tails than a gymkhana. The Gerry Garcia lookalike selling green spray painted garden gnomes (eco gnomes©) did not respond to my interrogation. Maybe it was my Northern English/West Cumbrian accent that dumbed him. Was I talking to a gnome?
Friday we set off with the intention of making Bloemfontein by mid-afternoon; taking in some Midlands Meandering towns named after roads e.g. Nottingham Road.
We stopped at Isipingo, just South of Durbs, to refuel and tinker with the carburettor Isipingo – Zulu for: disorganised chaos; broken pavements; Indian owned and managed; Zulu manned; peelingly painted; buildings distressed; potholed …err … place. It was crowded, friendly and magic and for 20 minutes we forgot that we were whites – in fact the only whites. Now here's a strange thing – nobody else saw us as whites either – just part of humanity.
We made Nottingham Road by lunchtime. I'd seen an article in Country Life extolling its virtues. Greyton – we have nothing to fear. Most places were closed as it was the Friday after Easter. A sign in the open furniture shop said 'handmade wooden furniture often exhibits imperfections'. Adding 'badly' to the beginning was tut tutted by supervision.
Bloemfontein has been renamed – Mangaung. Nobody has told Bloemfontein.  Our digs were in a 'Safari Lodge' in President Paul Kruger Street. The name may have been changed – but nobody told Bloemfontein. The big 5, other than the young farmer at reception, were not to be seen. The rooms were in the small 5 format. I could lick the walls from the bed. 3 of the 4 stars were self-awarded. We dined at Primi at the Waterfront. Yes – Bloemfontein has a WATERFRONT: A Johannesburg architect designed shopping mall – eccentrically includes a switch to driving on the right – presumably to give a more continental feel. Practice maybe for when the Free State joins the European Union after the ANC conference?
Saturday we hit the road early picking our way carefully through the game on Pres. Paul Kruger Straat and over-nighted near Three Sisters. The Northern Cape is relatively untouched – other than the N1 which is currently very touched -in the same way as the N2.
Our stopover had been modernised in the 60's. I was modernised at the same time and so felt at home.
The other couple at the evening braai – had just arrived from Pretoria (Prettorreeyah)
I made the mistake of asking Pretoria-man what he, Wikus Van Der Pedia, was doing in the Kaarrrooo. 3 hours into his monologue: bushman rock paintings and etchings (petroglyphs); the Boer War; underground rivers in South West Africa; the State of the Nation….. I realised that WE had not been asked what WE were doing in Three Sisters or our names. I now understand the Boer War implicitly but will never be able to go to Colesberg without feeling extreme guilt. I remain confused as to which side did the rock paintings – the Australians or the Boer.
We had a quick look (because that's all you can do) at Victoria and Beaufort West (did Mr and Mrs East have 3 kids called Somerset, Beaufort and Victoria?). We nearly stopped at Prince Albert Road – again an enticing article in Country Life is to blame but we drove on – some hours and 2 Steers stops later we were home.
Greyton – we have nothing to fear.